Do you know what you need to be aware of when it comes to tax planning and bankruptcy?
The date of the first result found in a search of Google for "2015 tax year planning" is January 22nd of this year. That is pretty early, considering that the end of the year is less than two months away as I write this. There is still time to make sure that you prepare before the opportunity to take actions that might help you this year is gone.
What do I need to be aware of when it comes to tax planning and bankruptcy?
Most important: file all of your tax returns on time if you possibly can.
Second: avoid under withholding or under payment of your quarterly tax obligations.
Third: if you are in a Chapter 13 plan, and you owe more than $1,500 in taxes for a year after the filing of the case, you pay your tax debt off quickly if you possibly can. If you cannot, please come in to see me for a consultation. Read on to learn more about the steps that we may decide to take later in this article.
In this article, we will primarily cover tax-planning advice that is applicable to most people, regardless of income or assets.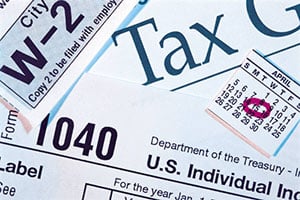 Higher Contribution Limits in 2015 are Accompanied by Limits on IRA and FSA Rollovers
Investopedia summarized "Five Tax Law Changes in 2015 You Need To Know"  that apply to savings plans, including IRA, 401(k), and Flexible Savings Accounts for healthcare. Most of the news is good; limits have been raised on contribution to retirement savings plans. However, employees are now limited to a single IRA roll over in any twelve-month period. And If you have a balance in your FSA at the end of 2014 and you carry over $500 of it into 2015, you will be ineligible to participate in a HSA in 2015. This restriction does not apply to FSAs for specific uses, such as dependent care or dental expenses.
The IRS Lays out Changes in 2015
The article, "In 2015, Various Tax Benefits Increase Due to Inflation Adjustments", lists changes in bullet point form, including tax rates, deductions, and exemptions. These inflation-based increases mean that you will keep more of your money, or be able to claim higher level of deductions than in previous years.
What do These Changes Mean? Ideas for Action this Year
While most of these changes are generally good news, they do not eliminate the requirement to file federal income taxes.
If you are in the midst of a bankruptcy filing, or if you are in a chapter7, chapter 13, or chapter 11 plan, then according to IRS Publication 908, Bankruptcy Tax Guide, the Bankruptcy Code requires a debtor to file an individual tax return, or request an extension. If this does not happen, the bankruptcy case can be converted or dismissed.
In addition, the bankruptcy trustee is required to file an estate tax return, form 1041, for the bankruptcy estate. However, this is usually not a concern to the vast majority of my clients, as it usually involves "big" cases
In the case of a Chapter 13 bankruptcy, the debtor pays disposable income into a monthly "plan" to pay creditors. In this case, you as the debtor are obligated to file your taxes on time, and, if you are directed to do so, to provide your returns to the trustee along with any refunds for payments to creditors during the bankruptcy repayment period.
There are a number of other helpful articles and resources on my website. This article, "How to Prepare and File your Federal Income Taxes for Tax Year 2014" contains a number of recommendations and resources that are as applicable today as they were when originally published on my site. If your concerns are more technical in nature—for example, on the tax consequences of property sales during foreclosure—I wrote a series of articles that are available on my site here.
Tax planning in bankruptcy can be complicated for some, but not most, of my clients. Remember the most important point I mentioned at the beginning of this article:failure to file your taxes on time can lead to new problems that you will have to deal with.
If you are in a Chapter 13 repayment plan with my firm, and you owe the IRS money for a year after the year in which you filed Chapter 13, you must file your return on time, and then come talk to me. We need to let the Chapter 13 Trustee know that you are facing an obligation, and that you going to see a professional to get into a tax repayment plan. For some people, we might even be able to lower the Chapter 13 plan payment a little while you are in a repayment plan for the taxes that you incurred.
If you find any of this confusing, please make an appointment to come in and discuss your situation. We are here to help you through your bankruptcy—before, during, and after the filing and completion of your case.
We're With You. All the Way Back.
I have compiled a record of service to my clients that is based upon my determination to be of help to them long after their case is over. Most of the articles on my site and the newsletters I've authored contain financial planning advice, including those linked above. The newsletter archive is posted on my site in case you would like to review previous editions at a later time. I am both proud and humbled by the comments my clients say in person and the reviews they've freely left about my staff and I on the web. I am committed to helping my clients resume their lives on a solid footing—all the way back after bankruptcy.